Do you see it differently? Then vote now:
WHY CANCELLING IS SIMPLY
NOT AN OPTION
Cancelling without alternative and waiting for other times must not be an option! Take the chance to maintain communication and loyalty with customers, employees, partners, sponsors and all others. You might even expand your group of participants because your guests don't have to travel anymore. Prove your innovative spirit and flexibility and show them: life goes on – no matter what!  
MOVE
YOUR OTHER DATES
FOR YOUR NEXT VIRTUAL EVENT
Less travel, less waste products, less energy consumption – virtual events are more sustainable and therefore make you feel good. But are these the only advantages? We say no. By the way, you can now show and demonstrate courage and innovative spirit: We are fully there for our customers and/or employees and our messages are worth listening to!
RESPONSIVE
& MOBILE READY
Flexible, location-independent and from anywhere in the world – our vision is your chance! By eliminating travel time and travel expenses, your participants can participate easily and conveniently from anywhere. No matter if on a smartphone, laptop or computer in the office, the location is no longer the center of the action, but the story you want to tell your participants.
YOU'VE ALWAYS WANTED TO VISIT
A VIRTUAL EVENT?
Then you now have the unique chance to do so: simply register for our demo version and try out all the functions as you wish.
Just say hello in our chat! We are available from Monday to Friday from 10 a.m. to 3 p.m.! We answer all your questions about our virtual events or simply talk to you about the weather. We are looking forward to your visit.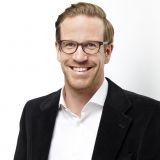 Fabian Jänsch
ALSO Deutschland GmbH
Marketing Manager
"Of course we are looking forward to hosting CTV again as a personal face-to-face event, but the online version has definitely become more than just a stopgap solution. In less than three weeks we have conquered a whole new world. And with ray.seven & STR8, our team had an insanely good guide".
CONTACT US AND LEARN MORE.